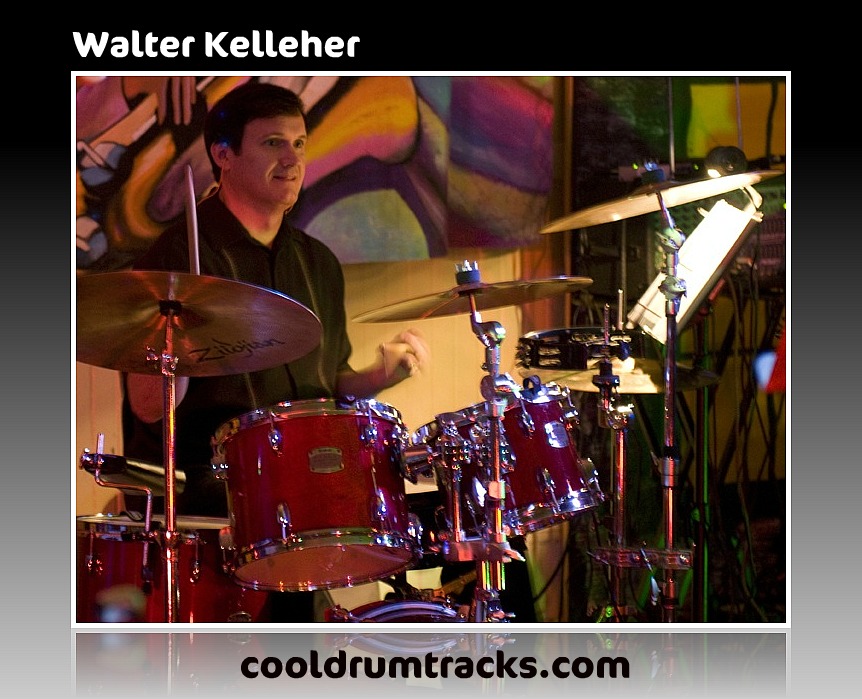 Equipment:
Noble & Cooley CD Maples 6 piece
Rogers Holiday (1966 model) 4 piece
Mapex Saturn Bebop 5 piece
Yamaha Stage Custom 5 piece

Zildjian/Paiste cymbals
Double pedal

Yamaha DTXpress II electronic set
Steven Slate Drums software
Superior Drummer software
EZ Drummer software
Addictive Drums software
DrumCore 3 software
Battery 3 software

Reaper Digital Audio Workstation
Cool Drum Tracks are recorded by professional drummer Walter Kelleher. Walter has been performing and recording for over 30 years and has received training from Jackie Mills (John Coltrane, Miles Davis) and Chad Wackerman (Frank Zappa, Steve Vai). Walter has played on numerous recordings and has recorded for artists worldwide, including the United States, Norway, Sweden, Israel, Australia, and England.
He is the drummer with the popular heavy metal band Human Cometh, and also performs with the Tallahassee Swing Band and Local Motion, and has performed with the following musicians:
Cynthia Calhoun - Singer with Steely Dan, Al Jarreau, Barry White, Boz Scaggs, Gloria Estefan.
Danny & The Juniors - Rock-n-roll group from the '50s, had #1 hit with "At the Hop", and top 10 hit with "Rock and Roll is Here to Stay".
Clarence Seay - Jazz bassist with Art Blakey and the Jazz Messengers, Wynton Marsalis, Wallace Roney, Billy Harper, and Cindy Blackman.
Johnny Marshall - Blues guitarist extraordinaire.
Ed Bruce - Country music songwriter and singer (wrote "Mama's Don't Let Your Babies Grow Up to Be Cowboys").
Steve Gilmore - Bass player with the Phil Woods Quintet.
Jill and Gary Wofsey - Wife and husband jazz performers. Jill has placed numerous times in DownBeat Magazines best flute player poll.
Scotty Barnhart - Lead trumpet player with the Count Basie Orchestra.
Scott McCaughey - The "5th" member of R.E.M. from 1994-2011. Also, member of The Young Fresh Fellows, The Minus 5, The Baseball Project, and Robyn Hitchcock.
Chuck Carroll - Guitarist with The Young Fresh Fellows and The Squirrels.
"I've had the opportunity to work with some amazing drummers (Keith Carlock, Steve Gadd, Ricky Lawson, to name a few) and Walter is as tasty and versatile as any of them."
Cynthia Calhoun